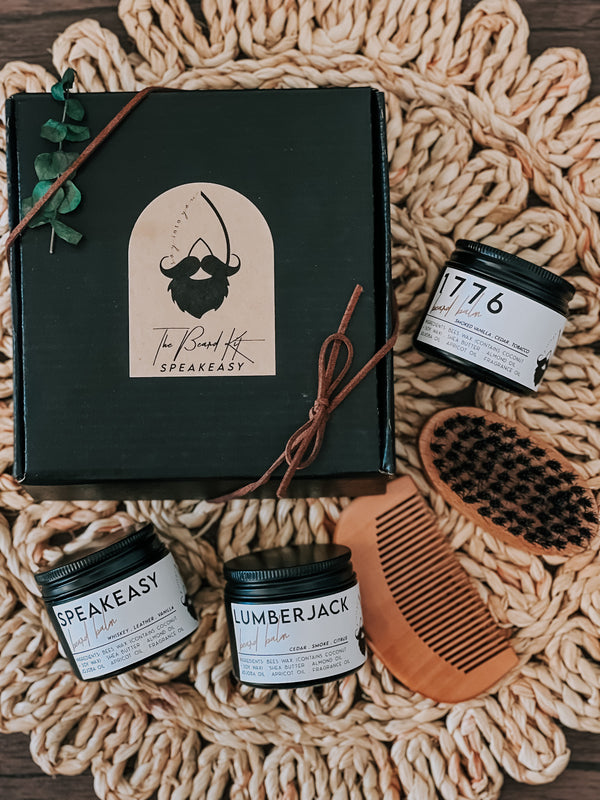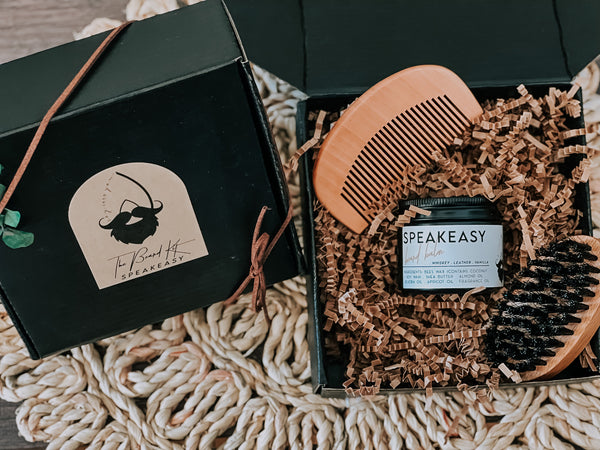 The Beard Kit 

The Beard Kit includes one 2 oz. balm of choice, pocket beard brush + beard comb. Our beard balms are made with a blend of white beeswax, coconut, + soy wax to create the creamiest of balms. Along with the wax blend is all natural shea butter, jojoba oil, almond oil, apricot oil, essential oils + paraben/phthalate free fine fragrance oils.  This balm will leave your beard + skin moisturized all day long, while leaving an amazing scent behind. 
___________________________ 
How To:

Scoop a pea sized amount and emulsify in hands until warm. Apply to beard & style to keep down pesky hairs. A little goes a long way! You can also apply balm to tattoos + skin to keep moisturized. 
___________________________
Product info: 
- 2 oz. beard balm of choice
- Beard brush made of birch wood + boar bristle. Brush fits in the palm of your hand. 
- Beard comb made of pear wood. 
- Product will last 3-6 months dependent on usage. 

- Shelf life: 9 months
___________________________

Scent Options:
Speakeasy: Travel back to the 1920's with this scent. A masculine blend of whiskey, vanilla, tobacco leaves, bourbon, smoke, oak + leather. 
Lumberjack: Feeling woodsy? This blend has notes of citrus, saffron, smoke, sandalwood, cedar, thyme + amber. 
1776: Because, America! Get patriotic with this unique blend of vanilla, bourbon, cedarwood, apple + redwood.