clean burning, the way it should be!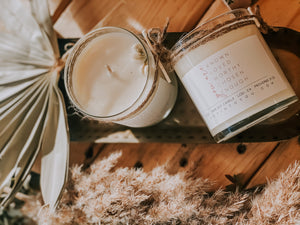 Why Soy Into You?
created with a purpose | delivered with love
At Soy Into You, all candles and wax melts are made with 100% soy wax, hand poured with love and free of phthalates and parabens to ensure a clean burning candle, the way it should be. With every candle purchased, $1 will be donated to Child Mind Institute.
At Soy Into You, you have the choice between a lead free cotton wick or an eco-friendly wood wick, both bringing a clean and fragrant aroma into your home!
Shop Here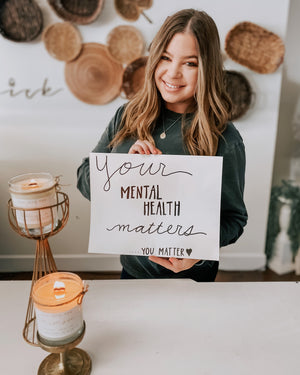 Meet The Maker
Hi there, I am Sam! The face + creator behind Soy Into You and I am so happy you are here! Candles have always been apart of my everyday life, but it was in 2019 that God spoke to me and I felt called to make candles for others. In January 2020, Soy Into You was born. My mission is to create one of a kind scents inspired by memories, to fill your life with good smells, providing 100% natural + safe products, spreading inspiring scriptures and openly discussing mental health in hopes to end the stigma one donation at a time. Each candle label has a scripture listed + designed and made with so much love & created with boho + minimalist aesthetics.
Psalm 18:28 | For you will light my candle, the Lord my God will enlighten my darkness.
Our Team
"If I could give this scent 20 stars I would!!!! I get SO MANY compliments when burning this candle in my home...."
Katelyn
"I light this candle every morning when I wake up. It's definitely my favorite!"
Ashley
"This candle has the best scent to it. It truly smells like a brisk Tahoe morning after it just rained or snowed...."
Brittany