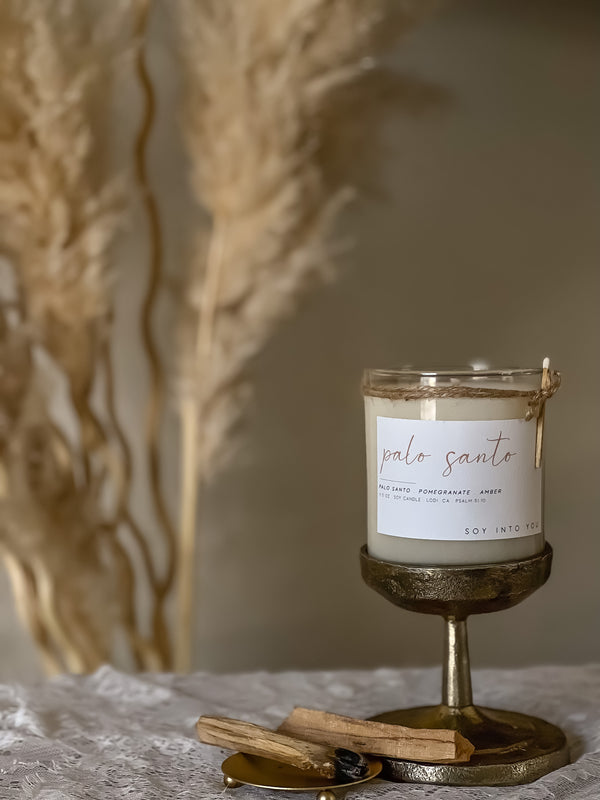 Palo Santo -  100% soy candle 
palo santo . pomegranate . amber
I think we all need palo santo in our lives... I frequently burn my palo santo candle + palo santo stick when I am feeling overwhelmed and need to cleanse my living space. Palo santo is an earthy + woodsy scent with notes of palo santo, cedarwood and musk and hints of sweetness from amber and pomegranate oils. *Included with each purchase of a palo santo candle will be 100% natural + sustainable palo santo stick*
___________________________
Scent Notes: 
Top: pomegranate . black currant nectar . ozone 
Middle: red clay . leather . cedarwood . patchouli . sandalwood  
Bottom: palo santo . amber . musk . powder 
___________________________
Candle Product info: 
11.5 oz. soy candle
Burn time: 50+ hour 
Lead free cotton wick or eco-friendly wood wick
+ Match is included with each candle including a match striker at the bottom of the jar.
___________________________
Palo Santo Stick | How to Use | Benefits

* Light match + hold palo santo stick at a 45º angle to light.
* Keep lit for 10-30 seconds - then, blow out flame. 
* Place stick in a heat proof dish to burn. *Palo santo will release sweet + woodsy smoke. If you wish, guide stick around areas of your home that you would like to cleanse/purify. 
Benefits
Your palo santo stick is sustainably harvested from Peruvian reserves & certified by Peru's National Forest Service. Palo santo has many traditional healing benefits such as: stress, cold + flu symptoms, headaches, anxiety, depression + inflammation. Palo santo can be used to clear negative energy. 
Suggested Room:
Living room, bedroom, bathroom, entryway 
Please note: Products ship within 7-10 business days via USPS Priority Mail.