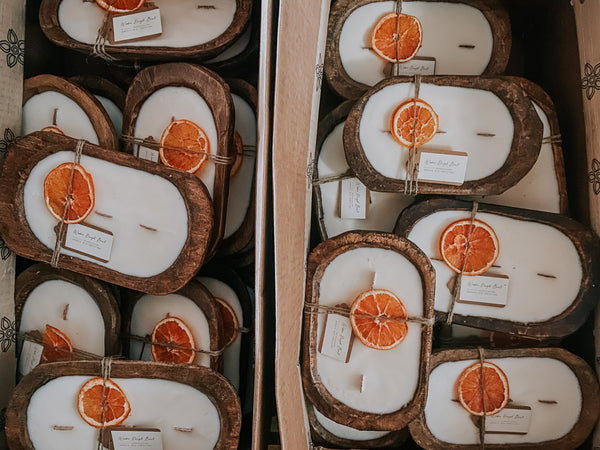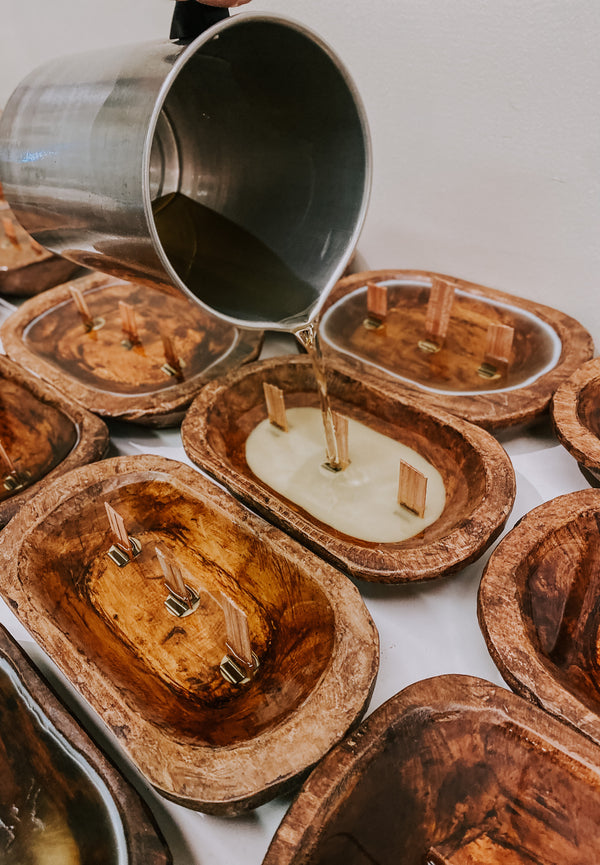 Dough Bowl -  100% soy candle 
All dough bowls are made to order. Please choose your scent and allow 7-10 business days for your candle to made + shipped to you. 
___________________________
Candle Product info: 
14-16 oz. soy wax
triple eco-friendly wood wick
 __________________________
PLEASE NOTE:
Each dough bowl is hand carved making your bowl unique and one of a kind. We recommend lighting your candle on a surface that can be easily cleaned in the event wax seeps out from the dough bowl. Although this is unlikely, like us, these hand carved dough bowls can have small imperfections. Prior to each pour, we examine each dough bowl to ensure there are no visible cracks but due to the nature of the natural bowls, they can sometimes be missed. In the event this does happen, the wax can easily be cleaned up with warm soap + water! 
Please allow your candle to burn approximately 2-3 hours or until wax reaches the sides of the bowl. This will prolong your candle life and reduce tunneling. Burn no more than 4 hours at a time. Do not move your bowl while candle is burning. Always keep candle within eyes reach when burning.
>> In addition, wax discoloration, rough + bumpy tops and/or frosting may occur after burning your candle. This will not affect the performance of your candle.   
 __________________________ 
Please note: Products are made to order and ship within 7-10 business days via USPS Priority Mail.